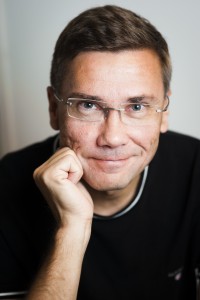 Aaltonen's research (i) identifies genomic regions associated with tumor development and (ii) unravels the underlying mechanisms. Colorectal cancer and uterine leiomyoma are the tumor phenotypes currently under particular scrutiny. By doing whole genome analysis of benign and malignant tumors from many patients, it's possible to identify mutations in coding and non-coding gene regions, this, in turn, forms the foundation for development of better neoplasia treatments.
"Sample material is important in this type of research, and being part of CIMED provides opportunities for valuable collaborations. Fresh, uterine leiomyoma specimens collection is being planned in the near future. Sweden's biobanks provide great opportunities for the aberration identification that leads to colorectal cancer."
Besides sample collection and preparation, application of advanced bioinformatics is essential for genome data analyses. Together with research collaborators at CIMED, his group will investigate unexplained hereditary cancer causes.
"Combining material from Sweden and Finland will provide the planned work with a particular edge, because rare entities and subclasses can be studied with sufficient power."
Aaltonen is currently a visiting professor at Karolinska Institutet – besides his permanent position at University of Helsinki, as head of the Centre of Excellence in Cancer Genetics. Previous work includes identification of genes that predispose many diseases. Colorectal cancer research, in particular, has been successfully translated worldwide and provides cancer-prevention opportunities within susceptible families.