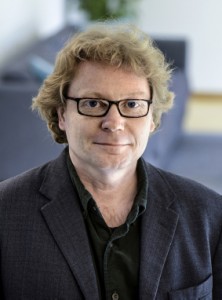 Protein misfolding in human disease and basic mechanisms in protein assembly phenomena in biology constitute Jan Johansson's research focus. Among other things, his work resulted in a drug for neonatal lung disease treatment and novel molecular tools development – based on detailed understanding of the assembly mechanisms of spider silk proteins.
He discovered BRICHOS, the first chaperone domain that specifically prevents amyloid toxicity; it is linked to development of afflictions such as Alzheimer's disease, some cancers, and respiratory distress syndrome (RDS).
At CIMED, his aim is to deepen understanding of the BRICHOS domain's unique properties – to harness them against Alzheimer's disease. He will also focus on the mechanistic and structural properties of amyloid in silk.
"Amyloid isn't just associated with severe human diseases; it's also associated with several functional assemblies that are built from amyloid-like structures; spider silk is one example. Spiders manage to store highly aggregation-prone proteins at extreme concentrations and to convert them into an amyloid-like fiber – exclusively at the right time and place during spinning. This suggests that they've developed ways to control amyloid formation."
During his successful work on developing a synthetic lung surfactant preparation for RDS treatment in premature children, he worked closely with a pharmaceutical company and as a clinical and preclinical scientist in pulmonary medicine and neonatology.
"We're building on this positive experience and hope that some of the lessons we learned during that time can now be implemented at CIMED. It strikes me as being an optimal environment because it combines cutting-edge molecular sciences with a strong clinical research environment. I'm confident that working at CIMED will facilitate our ambition to translate our findings on mechanisms involved in amyloid formation and prevention to clinical applications."
Johansson is an MD, professor of Medical Biochemistry at SLU, and professor of Biological Dementia Research at the Karolinska Institute. He defended his dissertation on structures of lung surfactant polypeptides at the Department of Medical Chemistry at KI in 1991 and became assistant professor in 1994 – after doing his post-doc at ETH in Zürich with Kurt Wüthrich, a Nobel Prize winner. Johansson received the Hans Sigrist Prize from Bern University in 2001.
For more information please see: