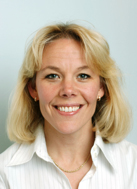 Katarina Le Blanc's overall research goal is to understand the interplay between immune cells that control inflammation in health and disease with stromal cells that constitute the body's connective tissue. Earlier, she demonstrated that mesenchymal stromal cells (MSCs) have immunomodulatory effects that can be used clinically.
Apart from studies on MSCs' beneficial effects – in conjunction with hematopoietic stem cell transplantation – several other collaborative studies currently explore MSC therapy, for example, in newly diagnosed diabetes mellitus type-1 patients and in scarred, laryngeal-fold reparation.
"The studies will provide unique insight into in vivo immunosuppression by MSCs in humans and into the cells' reparative capacity."
At CIMED, Le Blanc and her colleagues work to establish and optimize MSCs as a clinical therapy.
"We'll continue our efforts to evaluate the clinical effect of MSC infusion – particularly for inflammatory and immune-mediated disorders in clinical trials. By using collected patient material, we'll investigate mechanism behind these disorders."
With a strong tradition in transplantation research at Karolinska Institutet, Huddinge campus, this is also Sweden's main site for cell therapy (CT) and the emerging interdisciplinary field of research that focuses on repair or replacement – to restore function in incurable disorders. Because CT biology is complex, more knowledge is necessary within these areas: cell biology, transplantation immunology, cell cultivation, manufacturing, legal framework, and clinical trials.
"CIMED will provide an excellent diagnostic platform and a biomarker evaluation tool that are crucial for clinical efficacy of therapies."
Le Blanc is a hematology specialist and professor at Karolinska Institutet. She is a member of the Royal Swedish Academy of Science and the Nobel Assembly – and winner of the prestigious Tobias award for excellent studies of mesenchymal stem-cells immunological properties and the cells use in mesenchymal stem cell therapy. The Royal Swedish Academy of Science gives out the Tobias award.
For more information please see: