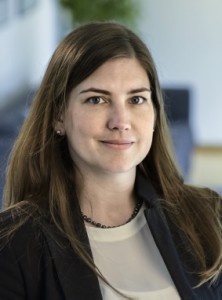 Emma Andersson's research mainly focuses on the genetic and mechanistic basis of Alagille syndrome (AS), which is a hereditary, multi-organ disease triggered by notch signaling defects.
At CIMED, Andersson focuses on elucidating the mechanistic processes that drive AS, with the ultimate goal to design therapies or tools for harnessing the power of notch signaling to treat other diseases such as cancer.
"We're thrilled to be part of CIMED and hope that via our affiliation with this center of innovative medicine, we'll be able to tackle multiple facets of this and other diseases by using multi-disciplinary approaches and benefiting from the scientific excellence in the center. Being localized to the Huddinge campus allows us to collaborate more closely with clinics that specialize in AS."
Andersson established collaborations with medical doctors at the Huddinge campus to obtain patient samples for analyses. She plans to expand this partnership to incorporate more elements of the disease – to fully address the spectrum of organ malfunctions.
"We hope our research will lead to new drug development and treatments for hepatic biliary dysfunction, cardiovascular diseases, and cancer."
Apart from her focus on AS, she works on further development of technologies for manipulating in vivo:
High-throughput gene expression in mammalian systems during embryogenesis
Screening of gene libraries for roles in various developmental programs – with focus on brain development
Andersson received her PhD training in genetic disease and regeneration control in the lab of Ernest Arenas at Karolinska Institutet, where she elucidated a role for WNT signaling in the morphogenesis and differentiation of the embryonic midbrain. She then moved to Urban Lendahl's lab at Karolinska Institutet, where she focused on the role of notch signaling in development and disease. In 2012, she was a guest researcher in the laboratories of Professors Elaine Fuchs and Mary E. Hatten at Rockefeller University in New York.
For more information please see: